Spartan-3AN USB-FPGA board

Overview
EDX-005 is an training board equipped with a Xilinx FPGA, power, reset, and clock circuit and configuration device.
EDX-005 have a Xilinx FPGA Spartan-3AN and an FTDI FT2232D for USB interface.
You can do configuration the FPGA via USB interface and can use communication interface by using FTDI's virtual COM port driver.

Block Diagram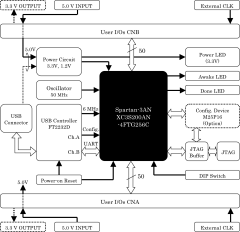 Last Updated on Wednesday, 25 April 2012
see more information