Xilinx Spartan-3A FGG484 FPGA board

Overview
Xilinx Spartan-3A FGG484 High Performance FPGA Board.
XCM-015 is simple and easy to use.
Block Diagram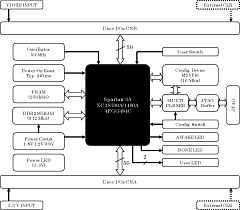 Contents
Xilinx XC3S700A-4FGG484C or
Xilinx XC3S1400A-4FGG484C

Feature
XC3S700A
XC3S1400A
System Gates
700 K
1400 K
Logic Cells
13,248
25,344
Maximum Distributed RAM Bits
92 K
176 K
Total Block RAM Bits
360 K
576 K
Maximum user I/O pins(Device)
372
375
Maximum user I/O pins(

Board

)
100
100
Maximum Differential I/O Pairs
165
227
Multipliers
20
32
DCMs
8
8

This table is for reference. Please refer to official data-sheets for certain information.



Configuration Device(ST SPI-ROM M25P16-VMF)
100 I/O PAD 100 mil(2.54 mm) grid
Separable VCCIO
50 MHz Oscillator(50 ppm)or External inputs
One User Push-Button Switch
Two User LEDs
Two Status LEDs(Power, Done)
DDR2-SDRAM 512 Mbit(32M x 16)(Micron MT47H32M16)
FRAM 256 kbit(32k x 8)(Ramtron FM18L08-70-SG)
Power-on Reset IC
JTAG port(7 pin Socket)
JTAG buffer for stable download and debug
3.3 V single power supply operation with an on-board 1.2 V regulator
On-board 1.8 V/0.9 V regulators for DDR-SDRAM
High quality six layers PCB.(Immersion gold)
Credit-Card-Size 2.126" x 3.386" (54 mm x 86 mm)
Tested all I/O
RoHS compliance
MADE IN JAPAN
Package Contents
Item
Image
Quantity
FPGA board(XCM-015-***)
1
Pin Headers
2
Sockets
2
There is no paper document such as user's manual and circuit schematic in the package.
Please download those documents from the link in the documentation section below.
Documentation
Price and Add-ons
Description
Model
(order code)
FPGA
List price
(JPY)
Stock Status
Spartan-3A FGG484 FPGA Board
XCM-015-700A
XC3S700A-4FGG484C
Spartan-3A FGG484 FPGA Board
XCM-015-1400A
XC3S1400A-4FGG484C
Universal board for ACM/XCM-0 series
ZKB-054
-
Universal board for ACM/XCM-0 series (Type2)
ZKB-105
-
---
[]