ALTERA Cyclone V PLCC68 FPGA Module

Overview
AP68-06Z offers you useful 68pin PLCC FPGA module of Altera high performance Cyclone V.
It's very compact size so you can use AP68-06Z in universal board by using DIP PLCC socket. Only one 3.3V single power supply is required. There are 50 user I/Os divided into two Vccio group, an oscillator and a configuration device on it.
AP68-06Z series are derived from AP68-06 series by removing FRAM.
Top Side
Bottom Side
With Through hole PLCC socket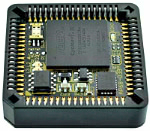 Last Updated on Wednesday, 25 December 2013
see more information